[ The Past ] [ The Present ] [ The Future ]
---
The Past – Ms. Kiss' Professional Background
For More Info on Ms. Kiss' Current Practice, visit that site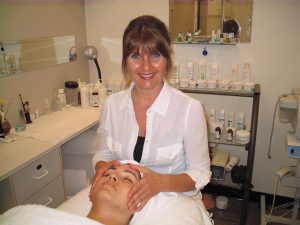 Elisabeth Kiss is a European-trained, USA-certified medical esthetician, electrologist and well-known Bay Area educator. Elisabeth was born and raised in Hungary, arriving in the United States in 1986. Graduating from the prestigious College of Aesthetics in Hungary, she studied for three years with an emphasis on biology, chemistry, and bio-chemistry. Elisabeth continued her education in the field of dermatology to become a medical esthetician, holding this license in both Hungary and the United States. She is a holder of the international CIDESCO Diploma.
Soon after Elisabeth came to California, in 1990, she opened her Healthy and Natural European Skin Care Clinic.
In 1997, she got involved in the education field, and started an advanced skin care education center side by side with her clinic.
In 2012, Elisabeth Kiss Euro-Skin Consulting was born to help new businesses to start, grow, and become as successful as hers.
In 2015, she started her own Natural Skin Care Line:
Elisabeth Kiss Skin Solutions. More information on that product line will be found on this site, soon.
---
The Present – Services and Products Offered
Currently, Elisabeth focuses on her skin consulting and advanced education programs, to help professionals keep up with the latest technology in our industry, and to use the most effective skin care products.
Over the last 35 years, she has also developed a custom-tailored skin care program to eliminate the problems with home care solutions. This often involves modifying the program as treatment progresses and skin conditions change.
Elisabeth also offers DNA testing, which targets skin problems and finds the correct, individualized solutions.
For more information on some of Elisabeth's many ventures, follow these links:
| | |
| --- | --- |
| Education | Bay Area advanced and "refresher" courses for esthetic professionals, with learning space and specialized equipment provided. As of 2021, Elisabeth can also grant CIDESCO certification! |
| Consulting | Elisabeth can help you to start or grow your practice, learn best practices for the high tech equipment you have invested in, and find the best — or create custom — skin care solutions. |
| Products | Unhappy with the products currently available, Elisabeth created the Elisabeth Kiss Skin Solutions product line. |
---
The Future – Products Available
Eventually, you will be able to order Elisabeth's skin care products directly from this site. In the interim, if you are interested in becoming a distributor, or purchasing these items at wholesale prices for sale to your clients, please contact us.
Elisabeth also offers Product Blending Classes using a wide array of ingredients, including those found in her own products.