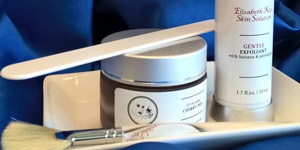 Exfoliants
Gentle Exfoliant with Banana Pineapple :: pH 4.0
Skin Type: All skin types except oily
Size: 1.7oz/50ml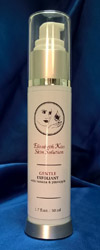 click image to zoom
Product Description:
Ideal for sensitive, reactive skin types or for those who desire additional hydration.
A deliciously rich, creamy, enzymatic Exfoliant that effectively dissolves dead skin cells without manual scrubbing. Bromelain Enzymes from Pineapple gently dissolves unwanted dead skin and Banana, rich in minerals and anti-oxidants, helps to soften skin and maintain an optimum moisture level.
Non-abrasive, yet highly effective, each treatment will leave your skin feeling brighter and softer to the touch.



Ingredients:
Aqua (Purified Water), Musa Sapientum (Banana) Fruit Puree, Glyceryl Stearate (Palm Tree Source), Persea Grattissima (Avocado) Oil, Cocos Nucifera (Coconut) Nut Oil, Lauryl Lactate, Vegetable Glycerin, Glyceryl Caprylate and Glyceryl Undecylenate, Xanthan Gum, Hydroxypropyl Starch Phosphate, Citrus Aurantium Dulcis (Orange) Peel Powder, Soy Lecithin, Bromelain (Pineapple) Enzymes, Citrus Medica Limonum (Lemon) Essential Oil, Citrus Aurantium Dulcis (Orange) Oil, Tocopheryl Acetate, Glycyrrhyza Glabra (Licorice) Root Extract, Althea Root Powder (Mallow) Extract, Organic Calendula Officinalis Extract, Organic Camellia Sinensis (Green Tea) Extract, Vitis Vinifera (Grape Skin) Extract, Organic Helianthus Annuus (Sunflower) Seed Oil, Daucus Carota Sativa (Carrot) Root Extract, Organic Aloe Barbadensis Leaf Extract, Pyrus Cydonia (Quince) Juice
Dynamic Peel with Cherry :: pH 3.5
Skin Type: Hyperpigmented, environmentally stressed, oily/combination, mature
Size: 1.7oz/50ml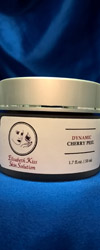 click image to zoom
Product Description:
Delight your senses with this clarifying Cherry Peel that offers serious results for mature, hype-pigmented skin. A powerful nectar derived from the Cherry Blossom promotes collagen synthesis and an even skin tone by suppressing the tyrosinase enzyme. A botanical cocktail of Glycolic, Lactic and Salicylic Acid penetrate the stratum corneum producing a highly effective anti-oxidant powered brightening result.



Ingredients:
Aqua (Purified Water), Vegetable Glycerin, Hydroxypropyl Starch Phosphate, Xanthan Gum, Glycolic Acid, Lactic Acid, Populus Tremuloides (Aspen) Bark Extract, Glyceryl Caprylate and Glyceryl Undecylenate, Tetrasodium Glutamate Diacetate, Yeast Extract (Phyto-Hyaluronate), Yeast Extract (Phyto-Collagen), Algae Extract, Chondrus Crispus (Irish Moss) Extract, Hydrolyzed Rice Protein, Vitis Vinefera (Grape Skin) Seed Extract, Vitis Vinefera (Grape Skin) Seed Powder, Prunus Serotina (Wild Cherry) Extract, Prunus Avium (Cherry) Fruit Pulp, Organic Helianthus Annuus (Sunflower) Seed Oil, Daucus Carota Sativa (Carrot) Root Extract, Prunus Domestica (Plum) Fruit Pulp, Aloe Barbadensis Gel, Organic Rosa Rubiginosa (Rosa Mosqueta) Seed Oil, Papain, Bromelain, Mineral Mica